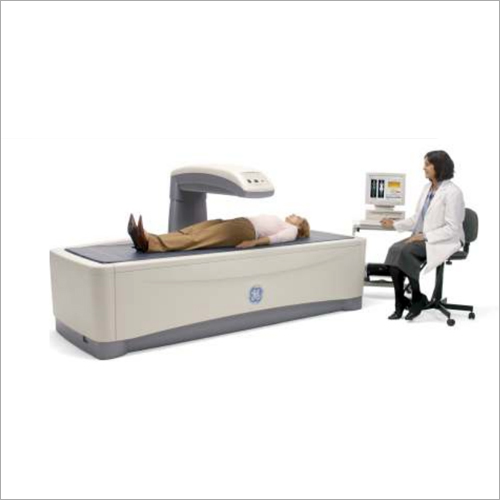 GE Lunar Prodigy Bone Densitometer
Product Code : 10
Product Description
The
GE Lunar Prodigy Bone Densitometer
precisely examines bone mineral density by measuring bone mineral content and area. It facilitates in providing accurate data and in streamlining patient's records on soft tissue and bone composition like BMD, fat & lean tissue mass, etc. Featuring unique prodigy's software platform and enCORE interface, the densitometer optimizes the overall productivity with automation breakthroughs. The densitometer uses direct-digital detector technology and prodigy delivers rapid scans that ensure result consistently and saves time too. The densitometer allows paperless digital reporting which makes easy and quick accessing of results. Based on detector technology, radiographic imaging & dose efficiency of this
GE Lunar Prodigy Bone Densitometer
has been increased 3 to 5 times.
Specification:
The narrow fan beam of 4° and 5° angle) with SmartFan, MVIR and TruView algorithms
Comes with energy sensitive solid-state array
Equipped with Direct-Digital CZT detector
The
GE Lunar Prodigy Bone Densitometer
precisely examines bone mineral density by measuring bone mineral content and area. It facilitates in providing accurate data and in streamlining patient's records on soft tissue and bone composition like BMD, fat & lean tissue mass, etc. Featuring unique prodigy's software platform and enCORE interface, the densitometer optimizes the overall productivity with automation breakthroughs. The densitometer uses direct-digital detector technology and prodigy delivers rapid scans that ensure result consistently and saves time too. The densitometer allows paperless digital reporting which makes easy and quick accessing of results. Based on detector technology, radiographic imaging & dose efficiency of this
GE Lunar Prodigy Bone Densitometer
has been increased 3 to 5 times.
Specification:
The narrow fan beam of 4° and 5° angle) with SmartFan, MVIR and TruView algorithms
Comes with energy sensitive solid-state array
Equipped with Direct-Digital CZT detector
Contact Us
Plot no. 12/1, Opposite Mc Donald, near Metro Piller no. 599 15/1, Delhi Mathura Road, NH-2, Faridabad, Haryana, 121003, India
Phone :91-129-2255500